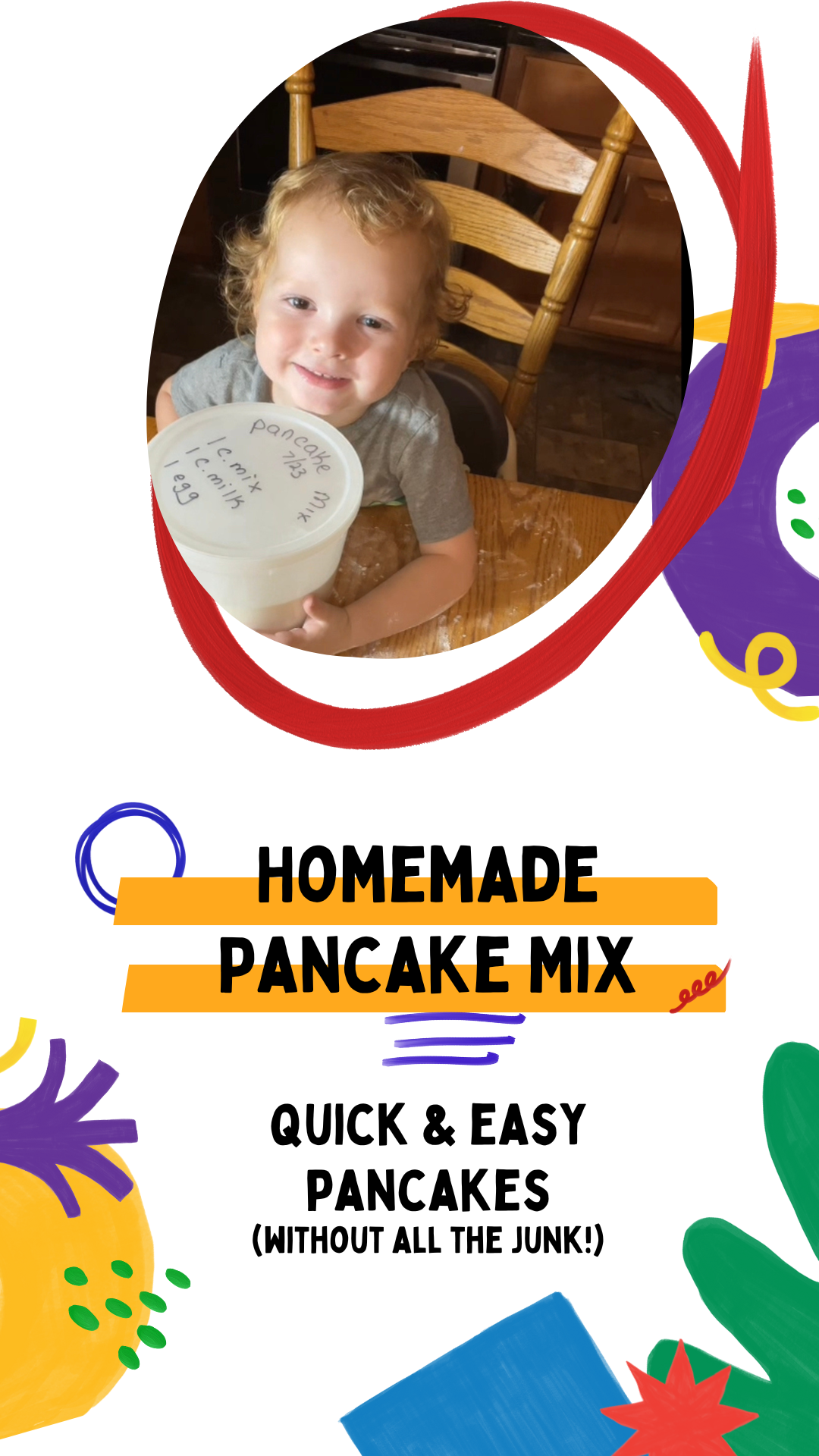 Quick, easy & delicious homemade Pancake Mix from scratch (less than 5 ingredients)
This post may contain affiliate links. Click here to read my affiliate policy.
🥞🎉 Wholesome & Fluffy Pancake Mix – Kid-Friendly, Quick, and Oh-So-Delicious! 🎉🥞
Calling all pancake lovers and busy bees! 📢🐝 Have you ever craved a mouthwatering stack of pancakes on a busy morning, but the thought of all those processed ingredients left you feeling guilty? 😔 Fear not, because I've got the perfect solution for you – a Homemade Pancake Mix that's healthier, kid-friendly, and ready in under 15 minutes! 🎥👩‍🍳
🥞🌿 What sets my recipe apart? 🌿🥞
1️⃣ All-Natural Goodness: Say goodbye to store-bought mixes loaded with preservatives and artificial additives. My homemade pancake mix is made with wholesome, natural ingredients you can trust, making it a nourishing choice for you and your family. 🌱🍃
2️⃣ Child's Play: You heard that right! This premade mix is so simple that even your kids who are semi-comfortable in the kitchen can whip pancakes up in no time flat! Imagine the joy on their faces as they begin getting their footing in the kitchen and are able to make a whole breakfast start to finish by themselves! 🍳👧👦
3️⃣ Time-Saving Wonder: Mornings can be hectic, but that doesn't mean you have to skip a delightful breakfast. With my pancake mix, you'll have a scrumptious meal that you can be proud of on the table in less than 15 minutes! 🕒⚡️
4️⃣ Endless Customization: Get creative and add your favorite mix-ins like fresh berries, chocolate chips, or even a sprinkle of cinnamon. The possibilities are as vast as your imagination! Just toss any additions in during the final mixing stage and voila! 🍓🍫🍌
5️⃣ Fluffy Perfection: Don't let the simplicity fool you. These pancakes turn out incredibly fluffy and irresistible, satisfying your cravings like never before! 😍🥞
🥞🎬 Ready to dive into a world of tasty goodness? Click that play button now to unveil the magic of our Homemade Pancake Mix! You'll also find a Printable Recipe Card below so that you can add it to your personalized recipe book today! 🎬🥞
The best part? You can prepare a big batch of this mix ahead of time, keeping it handy for those pancake cravings or busy mornings. It's a true game-changer for your breakfast routine! 🏆💫
🥞🌟 Your journey to the most amazing pancakes starts now! Click, watch, and let's flip some happiness onto your plate! 🌟🥞
🔗👉 Watch the short video here OR check out the short video embedded below 👈🔗
Don't forget to share the love! Tag your pancake-loving friends, so they don't miss out on this delightful treat. Together, let's embrace a healthier, tastier way to enjoy pancakes – made with love and without the processed fuss! 🤗❤️
Quick, easy & delicious homemade pancake mix
Homemade Pancake Mix that's healthier, kid-friendly, and ready in under 15 minutes!
Ingredients
6

cup

Flour

1/3

cup

Sugar

(I like to use coconut sugar)

3

tbsp

Baking Powder

2

tsp

Baking Soda

1

tsp

Salt
Instructions
Mix everything in a storage container or gallon sized baggie! Make sure you label your jar with the below instructions!

When ready to cook just use the 1:1:1 ratio! 1 cup of Pancake Mix, 1 cup of Milk & 1 egg! Whisk, drop spoonfuls into a preheated skillet with a pat of melted butter, cook 2-3 minutes on the first side and about 1 minute on the other side, serve w/ butter & real maple syrup. Enjoy!