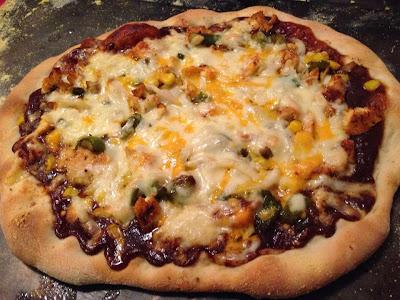 Homemade BBQ Chicken Pizza Recipe
This post may contain affiliate links. Click here to read my affiliate policy.
It was one of those days… We slept in until 11:30am (yes, my 18 month old loves to sleep, be very jealous), which led to a late nap, waking up around 6:30pm and panicking with thoughts of what's for dinner… I immediately ran to my freezer, and after gazing upon the last two lonely, frozen chicken breasts from last weeks stock-up sale, I had a vision. No, I had a dream. I had a dream that I could feed 6 ravenous carnivores with these 2 solitary chicken parts.
I pride myself in 3 things. 1. My monkey feet – I can pick up almost anything with my feet – sans socks. 2. My cooking – and I'm not even Italian. and 3. My frugality – I am a self-taught couponer, menu-planner, money-saving wonder woman, and if anyone can stretch a small amount of ingredients, you're looking at her – well, her blog…
Anyway, back to the point. After employing a basic pizza dough recipe (in my shiny new Kitchenaid *see right) I was ready to go. This recipe might seem intimidating, and it does take awhile because there are so many steps, but I made FOUR good sized pizzas from this, and it could be easily doubled, or tripled, and the ingredients keep well either in the fridge, or in a air-tight freezer bag, for long-term storage. Pizza ingredients freeze wonderfully, and are great for a quick, last-minute dinner! Enjoy!
Dough Ingredients (makes 4 10 inch pizzas):
2 C Warm Water
2 Tbsp Instant Yeast
4 Tbsp Sugar
4 Tbsp Olive Oil
4 Tsp Kosher Salt
5 1/2 C All-Purpose Flour
Instructions (you can do this without a stand-mixer, I did many times until last week!):
Fill the mixing bowl you'll be using with hot/boiling water, to get/keep the ingredients warm. Let the water sit about 30 seconds, then dump it out and begin. This will help your overall rise.
Mix the warm water, yeast, and sugar together with a whisk, and let it sit about 5-10 mins until foamy.
Add in the rest of the ingredients and either set your mixer to 2 (lowest speed) for 5 minutes, or mix and knead by hand 8-10 minutes.
Grease a warm bowl and place your dough inside, and set it inside of a warm (not hot) oven to rise for about 1-2hrs.
After it's risen, flour your hands and the counter lightly, remove the dough and divide into 4 equal sections (or however many you designed the recipe for).
Form a ball with each section, by stretching and pinching the dough until smooth. Roll/flatten each ball into a 10-12 inch circle. The easiest way to do this is to roll it out as far as you can, let it sit several minutes for the gluten to settle, then roll/press it again to desired width.
Place a generous amount of cornmeal or semolina on your pizza peel (or flat cookie sheet) and transfer your dough to it to.
Place your toppings on. Ingredients & Instructions follow =)
Ingredients:
2 Chicken Breasts
Parmesan Cheese
Salt, Pepper, Paprika
Green and/or Red Bell Pepper, diced
Corn Kernals (frozen, canned, or fresh)
1 small raw onion, thinly sliced
Sharp White Cheddar
Barbeque Sauce (recipe follows)
Olive Oil
Instructions:
Preheat your pizza stone in the oven. I crank my oven up all the way (500F) and let it preheat atleast 45minutes. You want it HOT so that your crust starts cooking immediately. If you don't have a pizza stone, GET ONE!
Using a filet knife, or something really sharp, make thin cutlets of the chicken.
Season the chicken cutlets with salt, pepper & paprika, and place it in a skillet preheated to medium-high. The chicken should sizzle as soon as it hits the pan if the pan is hot enough. Fry the chicken for 4-5 minutes per side, until it's nice and browned and cooked through. Remove to a plate and set aside to cool. After cooled, chop the chicken up into bite-sized pieces.
Add some olive oil to the skillet, and fry your diced pepper for a minute or two over medium-high heat aswell. They should immediately sizzle, and brown/soften quickly.
Now you're ready to assemble your pizza.
Rub a small amount of olive oil over your dough, this adds flavor and also keeps the dough from soaking up too much sauce and getting soggy.
Place your toppings. BBQ sauce first, then parmesan cheese, chicken, pepper, corn, raw onion, and cheddar.
Turn your oven down to about 450F, and dust your pizza stone with a bit of cornmeal, be careful it's HOT. Slide your prepared pie off of the peel/cookie sheet and onto the pizza stone. Cook for about 12-15 minutes, until the crust is slightly golden brown. You don't want it to cook too long, or it will make the crust too hard!
I use tongs to slide my pizza off of the stone, back onto the cookie sheet when it's finished. From there I just let it cool a few minutes, then slice and serve! Yum!
Apple BBQ Sauce:
Mix everything in a medium saucepan, bring to a boil, then turn down to a simmer for about an hour or until thickened. I actually ended up adding a bit of cornstarch to thicken it at the end, because I'm impatient, but you can let it cool and it'll thicken up a bit too.
1 C of marinara sauce (or tomato sauce)
2 C freshly juiced apple juice
1/4 tsp kosher salt
1/3 C molasses
1/4 C cider vinegar
1/4 C packed dark brown sugar
2 Tbsp white sugar
1.5 tsp Chile Powder
1/2 tsp Celery Seed
1,25 tsp ground cinnamon
1/2 tsp ground cloves
pepper to taste