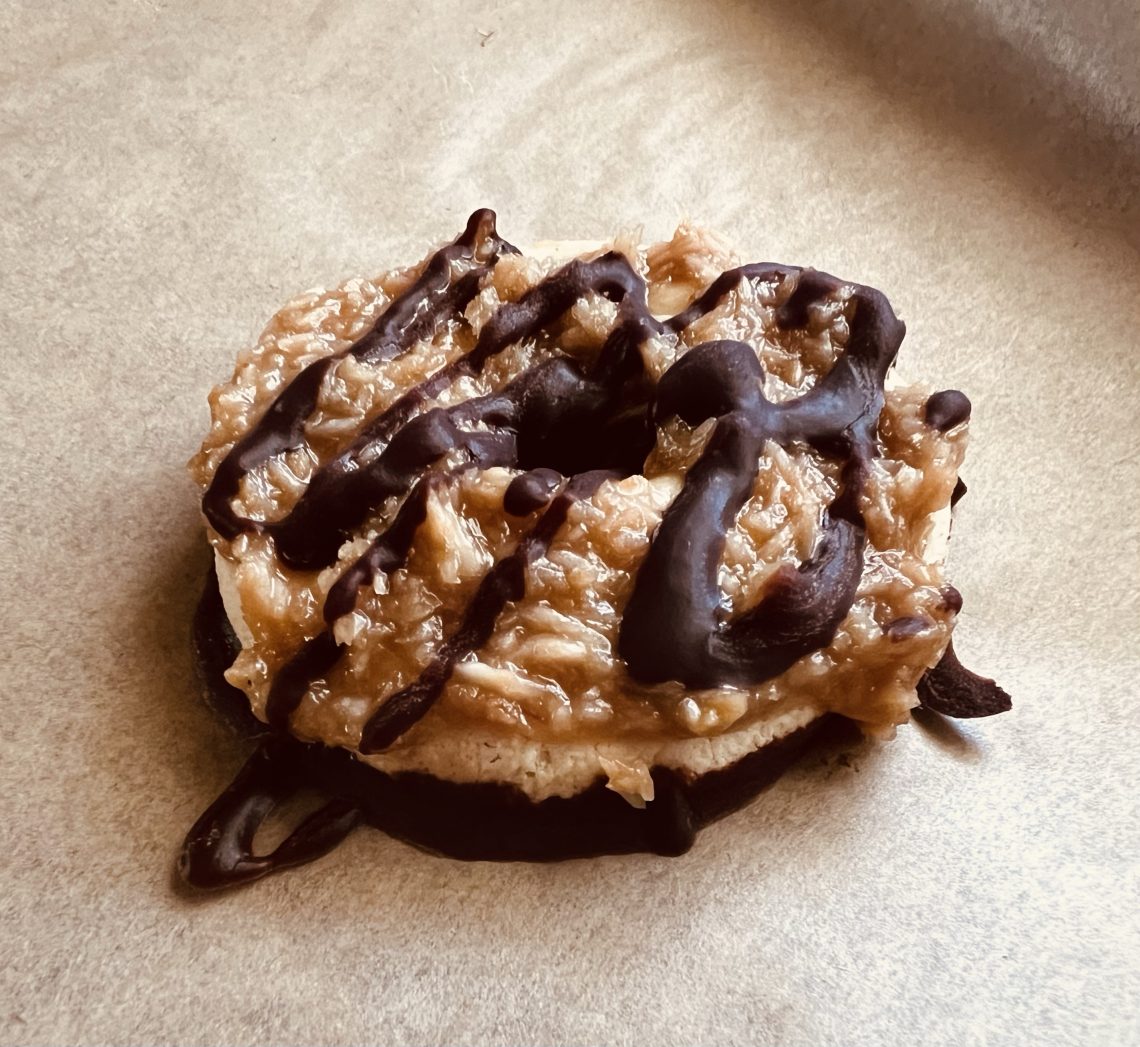 Girl Scout Caramel DeLites / Samoa Cookies Copycat Recipe | Plant-Based, GF, No Refined Sugar
This post may contain affiliate links. Click here to read my affiliate policy.
Jump to Recipe
Print Recipe
Rarely do I come across a recipe that checks all the boxes, and even when it comes close, I find myself altering things slightly based upon our tastes/dietary-needs. I prefer to stay away from Refined Sugar and sweeten our drinks & food with natural sources like: Local Raw Honey, Real Maple Syrup, Coconut Sugar & Dates… I used to be a big consumer of Monk Fruit back in my Keto days, but I'm no longer a fan and prefer to stick to foods as close to their natural state as possible.
I recently came across a post for 3 ingredient, raw Samoa cookies, and it got me craving them. Once I realized they wouldn't have that familiar shortbread crust that I feel is an integral part of the Samoa Cookie Experience, though, I decided to look around. Below is the recipe I came up with after combining several recipes and techniques, and making a few of my own substitutions. I hope you enjoy! (I know I did, for breakfast too, the following day.)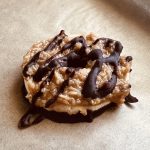 Print Recipe
Girl Scout Caramel DeLites / Samoa Cookies Copycat Recipe | Plant-Based, GF, No Refined Sugar
Shortbread cookies with a gooey caramel & toasted coconut topping, drizzled with AND dipped in dark chocolate. Everything you want in a cookie, without any of the guilt.
Ingredients
Coconut Caramel Sauce
1

can

Full Fat Coconut Milk

Check label for sneaky hidden ingredients

1/2

c

Real Maple Syrup

3

Tbsp

Coconut, Maple or Date Sugar

pinch

Himalayan Pink Salt

2

tsp

Vanilla Extract

1

c

Toasted Coconut Flakes (or desiccated coconut)

toast them in a dry skillet over low heat, stirring and watching constantly – remove when golden brown so they stop cooking
Shortbread Cookies
200

grams

Almond Flour

just over two cups

30

grams

Tapioca Flour

(about 1/4 cup)

1/8

tsp

Cinnamon

1/8

tsp

Himalayan Pink Salt

1/3

c

Coconut Oil

melted

1/3

c

Real Maple Syrup

1

tsp

Vanilla Extract
Chocolate Dip / Drizzle
1/4

c

Coconut Oil

3

Tbsp

Real Maple Syrup

5

Tbsp

Cacoa Powder
Instructions
Coconut Caramel Sauce (start first)
*This takes awhile to cook down, so I always recommend starting it first, that way you're not standing around drooling while waiting for this to thicken fully.

Make sure your coconut flakes are toasted and set aside.

Add coconut milk, maple syrup, salt & coconut sugar to a large skillet over medium-high heat. Whisk together until combined.

Once it starts simmering rapidly, turn it down to a slow simmer.

Whisk once every 3 minutes or so. You can start the cookies during this time, if you're able to keep an eye on the caramel sauce without burning either thing!

After about 15-20 minutes the sauce should be ready. You want it to be golden and thick, it should resemble caramel sauce when ready.

Remove from heat, add in the vanilla & let it sit for a few minutes to cool down, then add in toasted coconut flakes.
Shortbread Cookies
Mix all dry ingredients in one bowl.

Mix all wet ingredients in another bowl.

Add ingredients together, using a wooden spoon or stand mixer.

Form 1" balls and place them on a parchment lined cookie sheet. They don't really spread much so they don't need a ton of space.

Flatten the balls so that the cookies are about 1/3" thick. Use a bamboo skewer to start a hole in the center and swirl it outwards to enlarge the inner circle, you can use your finger at this point to smooth it out.

Bake for 10-13 minutes until just barely golden around the edges. Remove from oven and let cool completely.
Chocolate Dip/Drizzle
Combine all ingredients in a double broiler or saucepan and very gently over low heat stir until all melted and combined. Remove from heat and allow to cool for about 5 minutes.
Assembly
Dip the bottoms of your cookies in the chocolate. Put back on parchment-lined cookie sheet & put in freezer to solidify (5min). Remove from freezer & using a spoon or offset spatula spread the Coconut Caramel mixture on top of the cookie. Drizzle with remaining chocolate and return to freezer to solidify. Store them in the refrigerator (<1 week) or freezer (6 weeks) in a sealed container.
Notes
I don't recommend using a microwave to melt your coconut oil as it will destroy all the goodness of the coconut oil, & impart some things you'd probably rather avoid as well.